Hair which is often heat styled, blow-dried or straightened tends to dry out, split and break. Why? High temperatures are to be blamed. Let me share the most effective way – actually a product – to protect your locks with. Enjoy reading!
I want to start the post off with a key thing. I really don't like people saying that heat styling leaves hair damaged and we should all give it up. It's the high temp and lack of protection that causes damage. And we don't have to give up on anything!
Proper protection is the secret to beautiful and healthy hair despite heat styling on a regular basis. Products which are specially made for this purpose like oils, creams and sprays guarantee the most effective protection.
How to protect hair from heat?
You need to apply a small amount of such product right before heat styling. A good-quality cosmetic will create an invisible protective coating to keep high temperatures but also UV rays, free radicals or pollutants from penetrating the hair.
There's a great thing about most heat protectants – they can be used both on wet and dry hair so there's no need for shampooing every time you reach for a curler or straightener.
Which heat protectant to choose?
If you choose a heat protectant spray – instead of cream or oil – then the thermal protection will become super easy as well.
The great thing about sprays is they're lightweight and don't weigh hair down making it greasy. Plus, they're extremely easy to use, and you keep your hands clean and simply spray the product on from a distance.
Naturally, it doesn't mean that only sprays work and other products fail. A heat protection cream or oil will be effective (if it includes proper ingredients) but you'll spend more time applying it. The choice is up to you.
[BEST] Heat Protectant Sprays
I like the below products the most. To me they're the best. Check them out and share your results!
1. Nanoil Heat Protectant Spray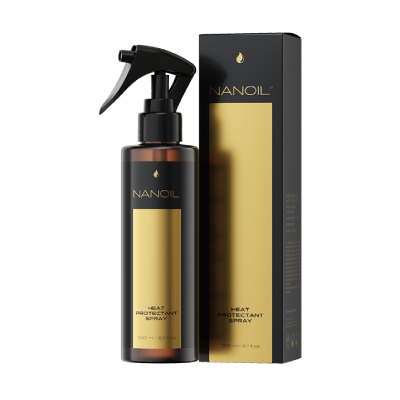 You won't find a better product for heat protection. Given that I've tested dozens, you can trust me. Nanoil's spray doesn't cost much while it manages to deliver full protection from extreme temps. (430 Fahrenheit degrees), the sun or free radicals. On top of that, the product is enriched with silk proteins which work by strengthening weak and damaged hair, eliminating damage done by heat in the past. I love it for its anti-frizz effect, easier combing, and smoother hair right after blow-drying. It really makes my locks look better. And it smells wonderful!
2. Kérastase Discipline Thermique Milk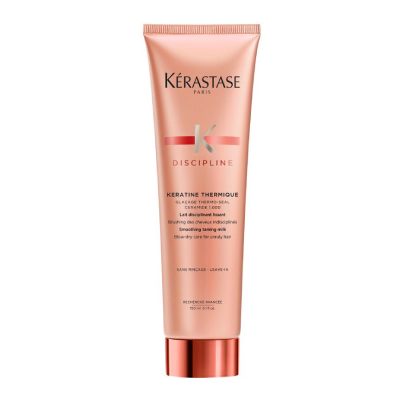 Size: 150 ml
Texture: creamy
Sprays aren't the only heat protectants I've tested. I really liked the cream-like Kérastase Discipline Thermique Milk (but I'm still a fan of sprays because they're more convenient). As far as effects go, Kérastase Discipline Thermique is non-overburdening, sinks in well, and doesn't leave hair feeling greasy. It contains Morpho-Keratine Complex which has a repairing effect, and polymers which work by building a hydrophobic barrier which reduces frizz and static. A small size and high price are the turn-off, but I think the product is worth trying.
3. Philip B. Thermal Protection Spray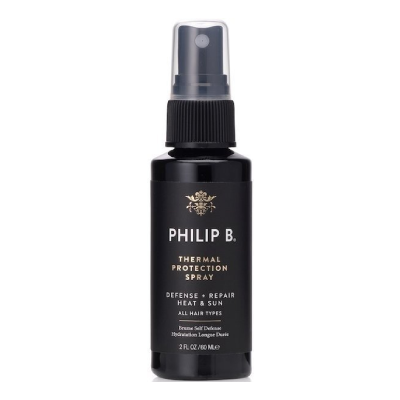 Size: 125 ml
Texture: water-based, lightweight
Philip B. has an interesting but very pricey offering. If you can afford it, then it's worth investing in. Philip B. Thermal Protection Spray contains amino acids which have a strengthening effect, and nourishing botanical ingredients, including mongongo oil, vitamin E, sweet almond oil, blue lupin extract and safflower extract. Thanks to such components, the formula nourishes the hair and protects it from high temperatures. It is a typical protective spray, though. If you also want easier styling, smoothness and shine, I recommend a different item.
4. Schwarzkopf OSIS+ Flatliner Serum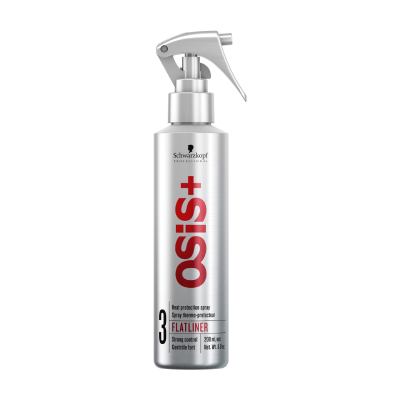 Size: 200 ml
Texture: lightweight spray
Schwarzkopf OSIS+ Flatliner Serum has an inviting price, which is why I got myself one. It wasn't the best heat protectant I've used but it was a pleasant surprise. It comes with an easy to use spray applicator, and doesn't overload the hair or make it oily. Schwarzkopf OSIS+ Flatliner Serum protects from heat and maintains water in the hair thanks to polymer technology. It also helps straighten the hair by adding smoothness and eliminating frizz but the effect depends on how unruly your hair is.