I get many questions about the face care products I use every day. Many of you ask about vitamin C and I'm happy to hear that because it's one of the coolest ingredients for our skin. You also wonder which vitamin C serum to choose for the best results. Today I answer the frequently asked questions about ascorbic acid and review the best face serums rich in it. Enjoy reading!
FACIAL SERUMS – QUESTIONS & ANSWERS
WHY SHOULD YOU USE SERUM?
It isn't just worth-using. It's a must! Facial serum isn't just an addition to skin care routine. It turns out to be the most important product, following a cleanser. Serum works deeply to enhance the dermis, and consequently, nourish, repair and rejuvenate the skin effectively. It brings long-term effects and they don't take much time to appear! Each drop of serum is packed with ingredients essential to our skin.
HOW TO SPOT THE BEST FACE SERUM?
It's a popular question. I'll spell it out best I can: no matter what cosmetic you shop for, you always need to check the ingredients, their concentration, and the effect they will have on the skin. As far as vitamin C products go, you need to check the type of the vitamin infused into the formula because there are many forms that are unstable and consequently have a poorer effect on the skin. Ideally, you should get the serum that's rich in Ethyl Ascorbic Acid – stabilized vitamin C with the strongest effect. What I'm getting at here is simple: we want high effectiveness which depends on the components that a product contains.
HOW TO USE A FACE SERUM?
I use my serum on a clean face after a toner, every morning and evening. I give the toner a moment to sink in and then reach for the serum and pat 2 or 3 drops on the face, gently massaging the skin to increase the blood flow. After the serum, I apply a moisturizer – never the other way round! Remember that serum is a leave-in product!
WHEN AND HOW OFTEN TO USE A FACE SERUM?
Most serums, ampules and boosters can be used daily, even twice a day. Obviously it depends on ingredients and their concentration. Some products are suitable only for night use because they are photosensitizing. If you're not sure about the frequency or time, check the label or leaflet. Some serums must be paired with SPF products. Fun fact: vitamin C turns out to boost the performance of sunscreen. Most serums can be used twice a day, and there's no reason why you can't reach for them in the summer. It's even recommended because many serums are high in antioxidants which protect from skin damage caused by the sunlight.
IS VITAMIN C SUITABLE ONLY FOR AGING SKIN?
Nope! It is one of few cosmetic ingredients that remedy many different skin problems, including imperfections, post-acne marks, oil excess or enlarged pores. Beyond that, vitamin C brilliantly smooths face wrinkles and adds radiance, improving the skin tone. Remember that anti-wrinkle products should be used soon enough to bring desired effects. They're a must once you turn 30.
WHICH FORM OF VITAMIN C SHOULD YOU CHOOSE?
There are various derivatives of the unstable pure vitamin C. Cosmetologists achieved different effects while trying to stabilize it. A highly-effective and stabilized type of vitamin C has been obtained recently. It's Ethyl Ascorbic Acid.
THE BEST VITAMIN C FACE SERUMS – MY ROUND-UP & REVIEWS
Nanoil Vitamin C Face Serum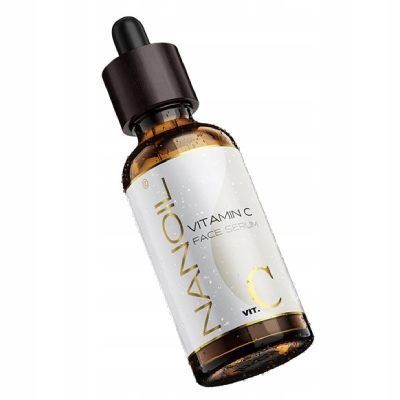 A terrific serum! It's the most effective because it is rich in the new-generation type of vitamin C bringing real results. Amazing blend of ingredients, fast effects, rave reviews, great price and size – everything's perfect about this serum. My face was smoother and more rested after the very first use. The serum keeps it healthy, restoring even skin tone, moisturizing and improving its condition. The Indian plant extract protects from the oxidative stress and helps get rid of face lines. It delays aging, strengthens and beautifies. The Nanoil Vitamin C Face Serum always works great on my skin.
Paula's Choice Resist C15 Super Booster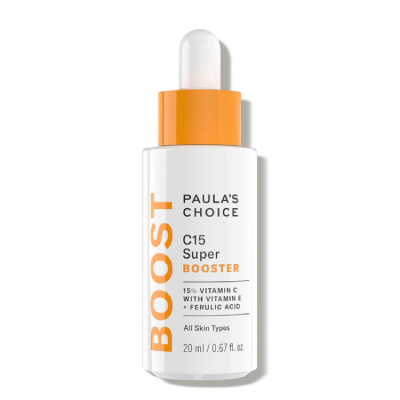 A really cool and very light serum that will make your wallet lighter too… Some consumers say it's not worth the high price because it contains unstable vitamin C. I like it for its high concentration of ascorbic acid (15%). The Paula's Choice Resist C15 Super Booster works fine: nourishes, acts as a nice conditioning agent, and smells lovely. It's a good light-textured serum for daily use on young skin.
Drunk Elephant C-Firma Day Serum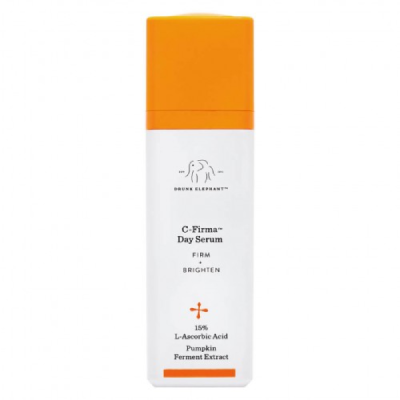 Only this serum gave me three acids that matter for skin's health: ascorbic acid (unstable type of vitamin C), hyaluronic acid (brilliantly moisturizes the skin; one molecule can hold around two hundred water molecules inside skin), and ferulic acid (revitalizes, exfoliates, repairs the epidermis, evens the skin tone and has anti-aging effect). The Drunk Elephant C-Firma Day Serum also contains vitamin E which maintains skin youth. It's an expensive serum but works perfectly for mature skin.
Obagi Vitamin C Serum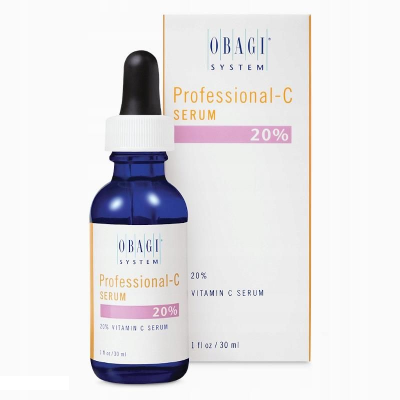 The popularity of the Obagi's Face Serum isn't fading! The brand offers face serums with different concentrations of vitamin C. The one with 15% ascorbic acid suits every skin type. Apart from the pure vitamin C, it contains the other form of it, called ascorbyl glucoside. It's a strong dose which gives real effects, improving the skin tone and gradually repairing the epidermis. Though effective and professional, the product is very expensive.
Sesderma C-VIT Liposomal Serum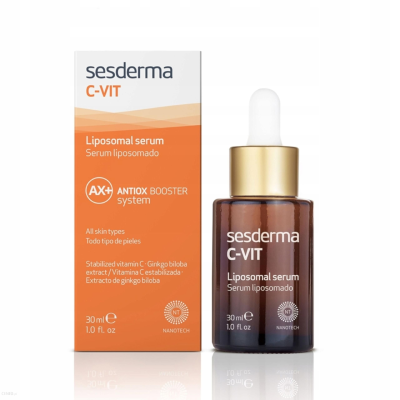 Tbh, it didn't work wonders on my skin because it's thick and leaves a sticky film on the face – my combination skin didn't like it. I really wanted to give it a second chance because it includes an effective type of vitamin C, but the effect didn't amaze me even when I used it before sleep. However, my sister, who suffers from constantly dry skin, loved this serum right away and has been using it for a few weeks now. Believe me or not, her skin got much better: dry patches are gone, the skin looks repaired, it's moisturized and smooth. The Sesderma C-VIT Liposomal Serum is a great choice for dry skin! Apart from vitamin C, it has some botanical extracts.