Hi!
Guess what! I've discovered the best face serum! Please, excuse me for being so straightforward but I just want to get straight to the point and give you only essential info. So, without further ado, let me invite you to the review of the best vitamin C face serum that was launched by Nanoil.
Nanoil Vitamin C Face Serum
PRODUCT DESCRIPTION
This face serum looks gorgeous and is sold in a big-size bottle (it has 50 ml instead of regular 30 ml). The dark glass protects the serum from spoiling. I've got mine for 2 months now, I've managed to use more or less half of it and the serum consistency remains unchanged and is exactly the same as on the first day I opened it.
Nanoil Vitamin C Face Serum
WHY IS IT THE BEST FACE SERUM?
To me, this is one of few face serums offering such amazing components. I knew I needed this serum when I saw vitamin C inscription on the packaging. But this is not just any other vitamin C but the finest one – it absorbs in a flash to unfold its effects in the deepest layers of the skin. I'm not sure whether you are aware of this but other forms of vitamin C are rather unstable so the effects they deliver are far from satisfactory. Believe me or not but I had quite a number of vitamin C skin care products in my life, even some costlier ones. The effects stood next to nothing. Luckily, this isn't the case with Nanoil face serum. Why is it different? Because it's formulated with ethyl ascorbic acid, that is the original and genuine vitamin C upgraded to its finest form.
Yet, this is not everything because this Nanoil face serum is made up of another awesome natural-origin ingredient: boerhavia diffusa root extract that has anti-inflammatory properties and is known for being a highly effective antioxidant. For those who aren't 100% sure what the role of antioxidant is, let me give you a short summary. Antioxidant fights off free radicals, prevents skin from damage and delays ageing processes.
Now, imagine combining the finest form of vitamin C with boerhavia diffusa root extract! Impressive, right? So, let's move on now to the issue that is the most important one: HOW DOES THIS FACE SERUM ACTUALLY WORK?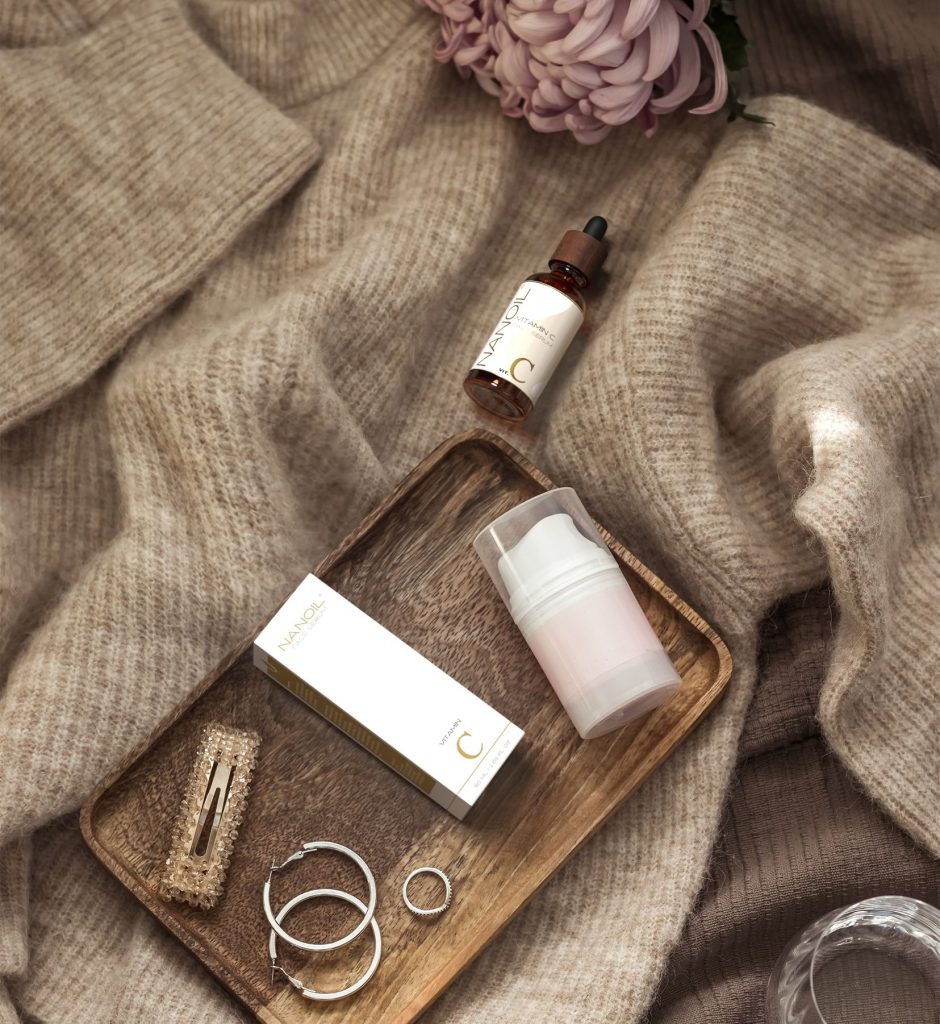 Nanoil Vitamin C Face Serum
APPLICATION & FIRST USE
I decided I would apply this face serum twice a day: morning and evening. I didn't want to add any more beauty products, although I truly wanted to apply Nanoil Argan Oil at bedtime (there are 6 of these outstanding natural oils). However, a test is a test so I applied the serum alone every single day and I was religious about it.
No more than one use of Nanoil Vitamin C Face Serum worked some kind of magic because it gave me rested-looking skin. Brightened, glowing, bursting with energy skin with even texture. I was so surprised and satisfied that I couldn't see any point in covering my face with a foundation, therefore on that day I just defined my eyelashes with a mascara and brought out the eyebrows with a pencil and that was my whole makeup. To my surprise, this flawless skin effect lasted all day! Nice job, Nanoil!
Nanoil Vitamin C Face Serum
EFFECTS PRODUCED AFTER 2 WEEKS OF USE
Day-to-day application of Nanoil face serum delivered me great results. Apart from the fact that my skin looked well-rested every day and I finally stopped looking like a zombie, and I saved my fave (but expensive) Kat Von D foundation (I didn't have to use it at all), I also noticed that after these 14 days of Nanoil face serum use my skin tone improved! Every time the summer comes to an end, my complexion is blemished with some tiny pigmentation spots, which appear mainly on the cheeks since this is where my skin is the most sensitive. So, I could finally notice that all the ugly spots vanished! Two weeks and you can see that the skin is brightened and glowing. Yeeey!
Nanoil Vitamin C Face Serum
EFFECTS PRODUCED AFTER 1 MONTH OF USE
Vitamin C face serum by Nanoil is perfect both for young girls who has discolorations and post-acne blemishes as well as for adult women who fight against the first signs of ageing. Where does this conclusion come from? Again, from my observations. After 4 weeks I noticed that apart from getting glowing and even skin, there was almost no trace of fine lines – all wrinkles got reduced in size! Additionally, Nanoil Vitamin C Face Serum improves skin resilience, leaves it more supple. I can also say that with this serum my skin is better hydrated, and I can feel it. Also, I couldn't spot any new pimples or other imperfections appearing on my face. Finally, I know that my skin is well-protected against urban pollution (e.g. smog and toxins).
Nanoil Vitamin C Face Serum
EFFECTS PRODUCED AFTER 2 MONTHS OF USE
The second month of Nanoil vitamin C serum use was my ultimate triumph: I won the battle against first signs of ageing. I remember a stranger in a pub asking me what university I went. Yeah… right… But coming back to the effects, I saw that my skin was youthful-looking, freed from imperfections, there was no excess sebum or discoloration. Now I can tell you that Nanoil vitamin C face serum has truly unparalleled multi-taking powers! Protection. Skin improvement. Resilience. Protection. What else could you possibly want from a face serum?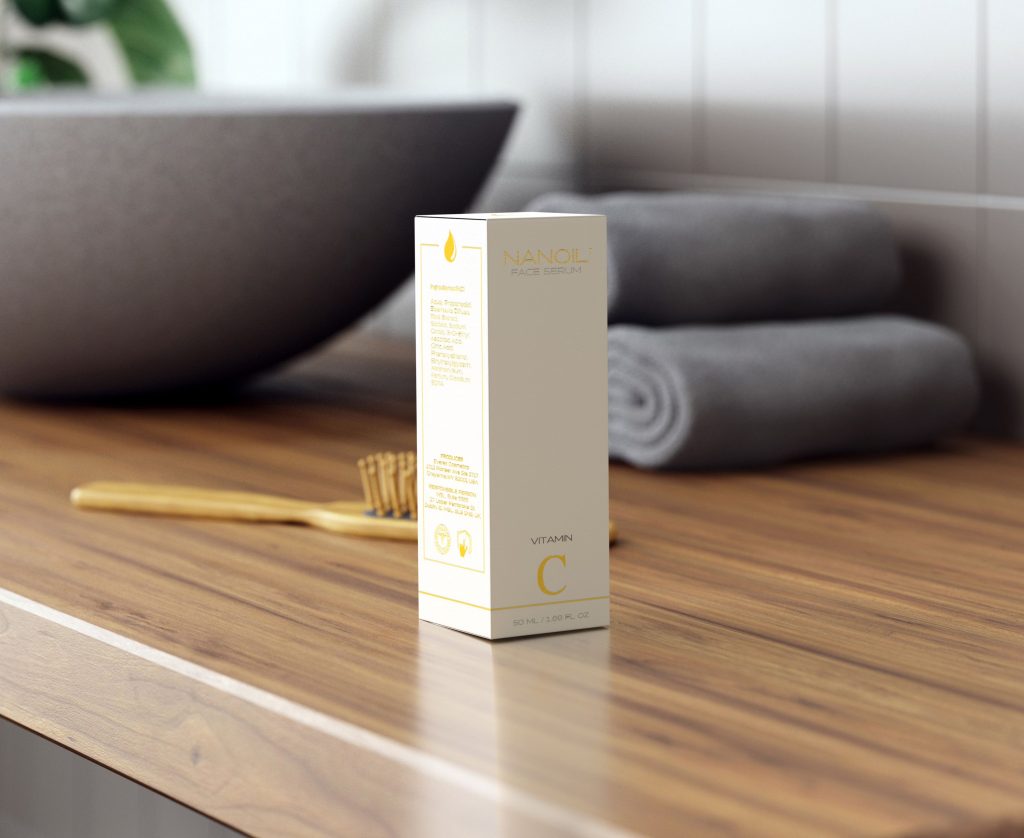 Nanoil Vitamin C Face Serum
MY THOUGHTS & FINAL REMARKS
To conclude, this is THE ONLY FACE SERUM THAT MANAGED TO SORT OUT ALL MY SKIN PROBLEMS. Please, excuse me for being so enthusiastic about this serum but I want to emphasize how surprised I am. Everything about this face serum is just perfect: effects, efficiency and even the price! If you compare the outcomes to the money you have to pay for it, you will be shocked how little you spend on it!
Vitamin C face serum launched by Nanoil receives only positive comments and reviews, I couldn't find any negative opinion about it. As far as I'm concerned, many girls appreciate this serum for penetrating the skin easily and that it's suitable for being applied before doing makeup. In general, Nanoil Vitamin C Face Serum gives you perfect skin from first use to later intensify this effect to finally gets you resilient, healthy, glowing and gorgeous skin.
Do you know this face serum? What are your thoughts about using vitamin C for beauty purposes? Did you manage to find the best form of vitamin C? If not, you have to give Nanoil Vitamin C Face Serum a try. To me, this is definitely the best face serum!