Dear readers;)
Brow lamination at home? Why not? Since now I can do the treatment myself, it saves me a lot of money. Eyebrow lamination is trending, and no wonder, as it allows you to style your brows for many weeks while nourishing them from within. In this post, you'll find my review of the Nanobrow Lamination Kit for at-home brow lamination!
What is eyebrow lamination all about?
I think most of you know, but here's some info if you are new to the subject of DIY brow lamination…. Eyebrow lamination is a beauty treatment that styles and visually enhances the brows with the help of special tools and chemical solutions designed for this purpose. In my opinion, the brow lamination treatment suits every woman, it gives very natural and long-lasting results, and you don't need to style your eyebrows at all on a daily basis 🙂 No wonder eyebrow lamination is becoming more and more popular and now you can do it in your own home!
What works best for eyebrow lamination?
It took me ages to find the right kit. Then, I finally came across Nanobrow Lamination Kit for an at-home brow lift and lamination. It contains everything necessary to perform a brow lift treatment at home.
The practical Nanobrow's brow lift and lamination kit contains three clearly numbered bottles: Brow glue (7 ml / 0.24 fl oz), StepOne Lifting Lotion (5 ml / 0.17 fl oz), StepTwo Fixer (5 ml / 0.17 fl oz).
The professional kit for DIY brow lift – Nanobrow Lamination kit – price
The price is very affordable considering the top quality. These solutions are super efficient and are enough for 10 individual treatments, so it's a huge saving. Besides, this brow lift kit provides results lasting up to 6 weeks and you don't have to worry about the look of your eyebrows at all 🙂 You can be sure they are precisely shaped and set in place even if your natural brows are unruly and grow in the wrong directions!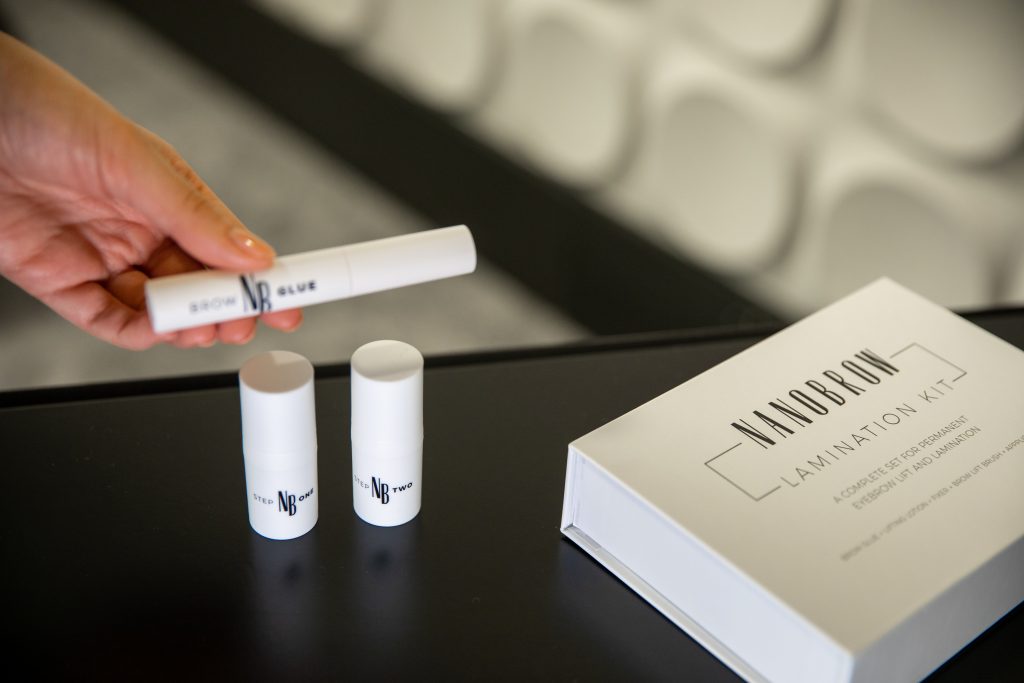 Eyebrow lamination at home with Nanobrow Lamination Kit
How to do eyebrow lamination at home? Let me tell you that at first, I thought it was difficult, however, I quickly found out that this is not true. Brow lamination at home is easy and fun, and it's all thanks to the Nanobrow brow lift kit 😉
Eyebrow lamination at home STEP BY STEP:
I remove my makeup thoroughly with an oil-free cleanser. The brows must be completely free of any oily residue!
Using an applicator, I apply a small amount of brow glue on my eyebrows and wait about 40 seconds. It all depends on the susceptibility of your eyebrows.
I reach for the included brush and apply the lifting product starting from the inner edge, shaping brow hairs in the desired direction.
After about 6 minutes, I wipe off the product with a dry cotton pad.
I apply the last product with a convenient applicator, keeping in mind to shape the brows in the desired direction. After 6 minutes I wipe it off with a moistened cotton pad.
I brush my eyebrows with a spoolie and… I can enjoy my perfect eyebrows for weeks! <3
At-home eyebrow lamination kit – Nanobrow Lamination Kit – review
Laminating eyebrows at home with the Nanobrow brow lift kit is a pure pleasure. Great formulas, easy application, and stunning results for weeks – what more could you want? 😉 So far, I've had two brow lamination treatments and both lasted for at least 5 weeks. The results are stunning, so I highly recommend Nanobrow Lamination Kit to all of you!
Beautifully defined and voluminous eyebrows – that's what they look like following the at-home lamination treatment. In the morning I just brush them with a spoolie and they always look great. Finally, I don't have to bother with my brow makeup, because I've never been fond of it, to be honest. However, for special occasions, I additionally define them with the Nanobrow brow pomade. HIGHLY RECOMMENDED!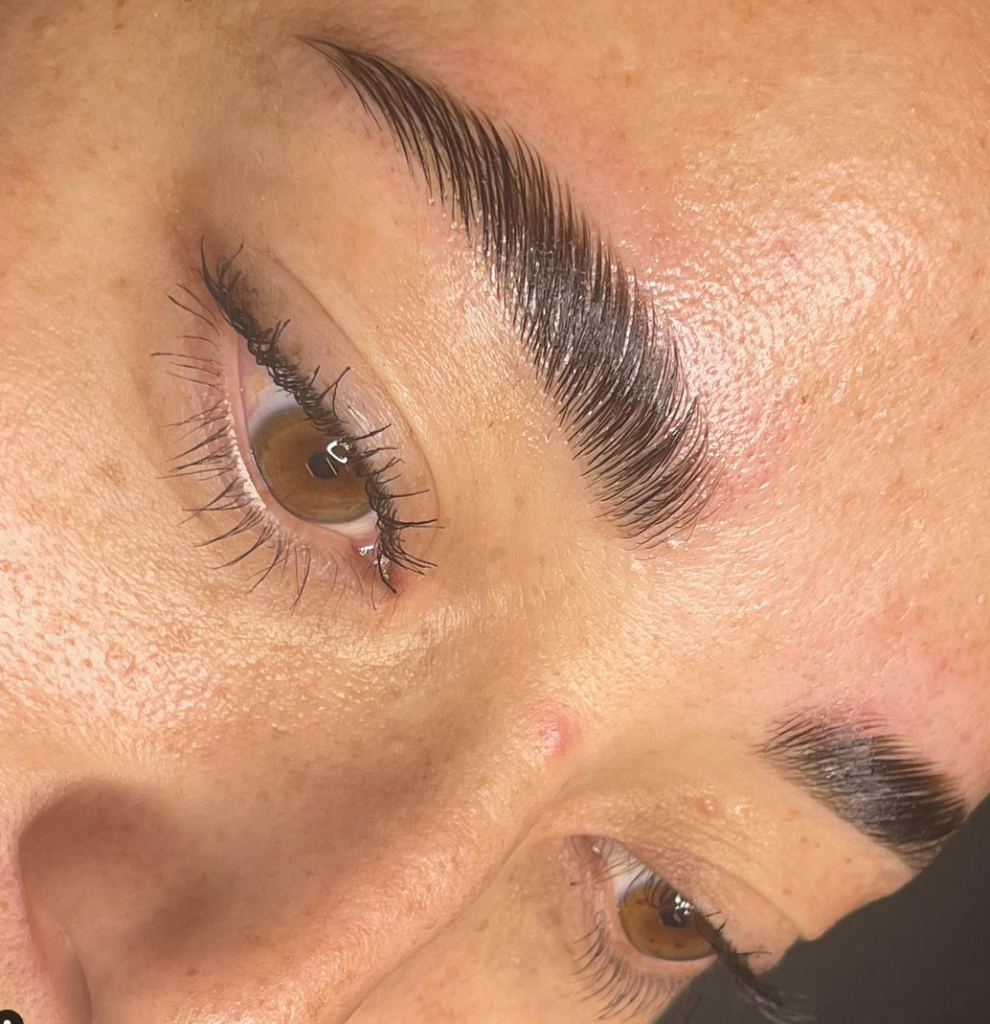 Nanobrow Lamination Kit – where to buy it?
I suppose that Sephora should have Nanobrow Lamination Kit on offer and at a good price. I think you can also find Nanobrow Lamination Kit in Rossmann or Douglas. Or simply go to www.nanobrow.uco.uk You can get it in-store or order it online.
Warm hugs and kisses! <3